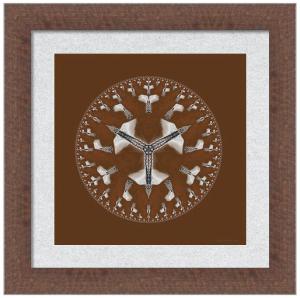 My newest piece of art, Cowboy Bolo Tie has a special story. There was a notice in the paper this week that a woman called Helen Evans died age 100 after a long full life.

That got me thinking about Foremost, the small Alberta town I grew up in, because Helen ran the cafe there. When I was a kid I used to love just slipping down the alley to get supper from her when my mother didn't want to cook. Somehow that was best on the winter days when the icicles hanging by the back door to the cafe almost reached down to the ground.

The memories flowed on about having had the wonderful luck to grow up in a small town and in cowboy culture. My father loved that culture and lifestyle.. They are in almost every photo I have of him, and I still have his favorite slide (is that the right name for the ornamental metal part?). Photographs and mementos are most of what I have of him - he died when I was six so actual memories are very hazy.

I ended up with an abstract inspired by the bolo ties he used to love to wear. It is a bit unusual for me because of the western mood. Usually I'm very contemporary abstract.